Heyyyy sooo I've been really busy lately AND I've been working on a longpost which will be up very soon. So I decided to take a brain break!
I had no idea how fun this game was going to be until I started it. Within seconds I was yelling and bouncing around just like I normally do when playing Bloodborne or Mortal Kombat X. My attitude toward beat'em ups is kind of like my attitude toward dungeon crawlers, RPGs, MUDs or MUSHs. There is something so irreducibly simple and appealing about the design that I usually like them at least a little bit, even if they're not particularly good.
The mechanics are intuitive enough for you to get ahold of the punch / kick basics easily but even the more unique stuff is just a few button mashes away from figuring out. Even before getting that far, though, there's something about the Ska Studios art style that just charms the pants off of me. The Ska Studios graphic design actually meshes really well with how fun and lighthearted this game feels at first. You're in a punk band and you wake up in the middle of the zombie apocalypse. I only just played through the very beginning so there may be more to it than that, but I love the apparent simplicity at this point. In fact, simplicity on a few levels seems like one of the strengths of this game. The controls are simple enough to figure out on your own and you'll probably figure out stuff like the character building mechanic on accident in the course of messing around.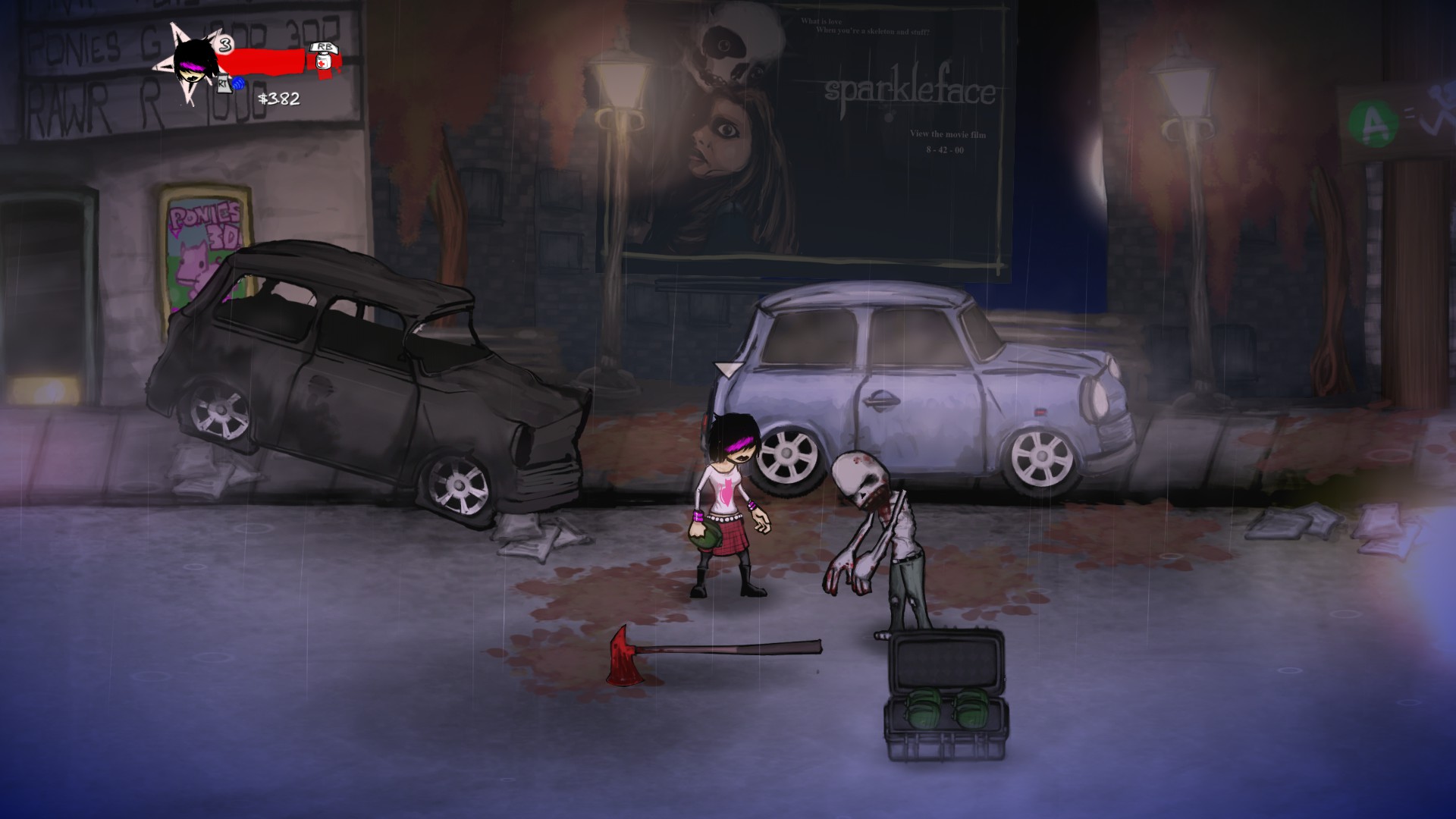 But the art style and the premise speak to something even more simple. The flying pieces of shrapnel and body parts and panicked bystanders and zombies and explosions make me think of certain cartoons I grew up watching. The original Powerpuff Girls, Courage The Corwardly Dog and Ed, Edd & Eddy all come to mind. I can even see a modern cartoon like the She-Ra reboot, Twelve Forever or even the creators of Over The Garden Wall or Gravity Falls attempting something like this if they wanted to go edgy. It would definitely be adult-oriented but…think of a creative team like the artists and writer(s) of Over The Garden Wall (my favorite recent cartoon). Based on that example, at least, they seem like they're unafraid to go all the way with artistic ambition. Not afraid to be blunt while unafraid of going subtle…and with music. That kind of creative team could do something delicious with Charlie Murder.
Other than character building, there are other RPG-lite doodads like equipment and weapons. You also…seem to be able to rotate playable characters from the very beginning. Or, at least, a single save file contains your entire band. Each band member has a character class and I decided to go with the Mesmer first and then started again with the Berserker. So now my save file has a level 3 Berserker and a level 3 Mesmer but everyone else is still at level 1. When you decide to rotate your player character, you start at the beginning.
I know it might not sound like much on it's face, but…it's a fun work around for something that other games struggle with. At least the RPGs. Square went from each game having a million potentially playable characters to having mandatory small groups. I don't know if I've played a game lately that simply has everyone available at the beginning like Charlie Murder, to be played and developed at the player's discretion. Did I mention the simplicity, yet?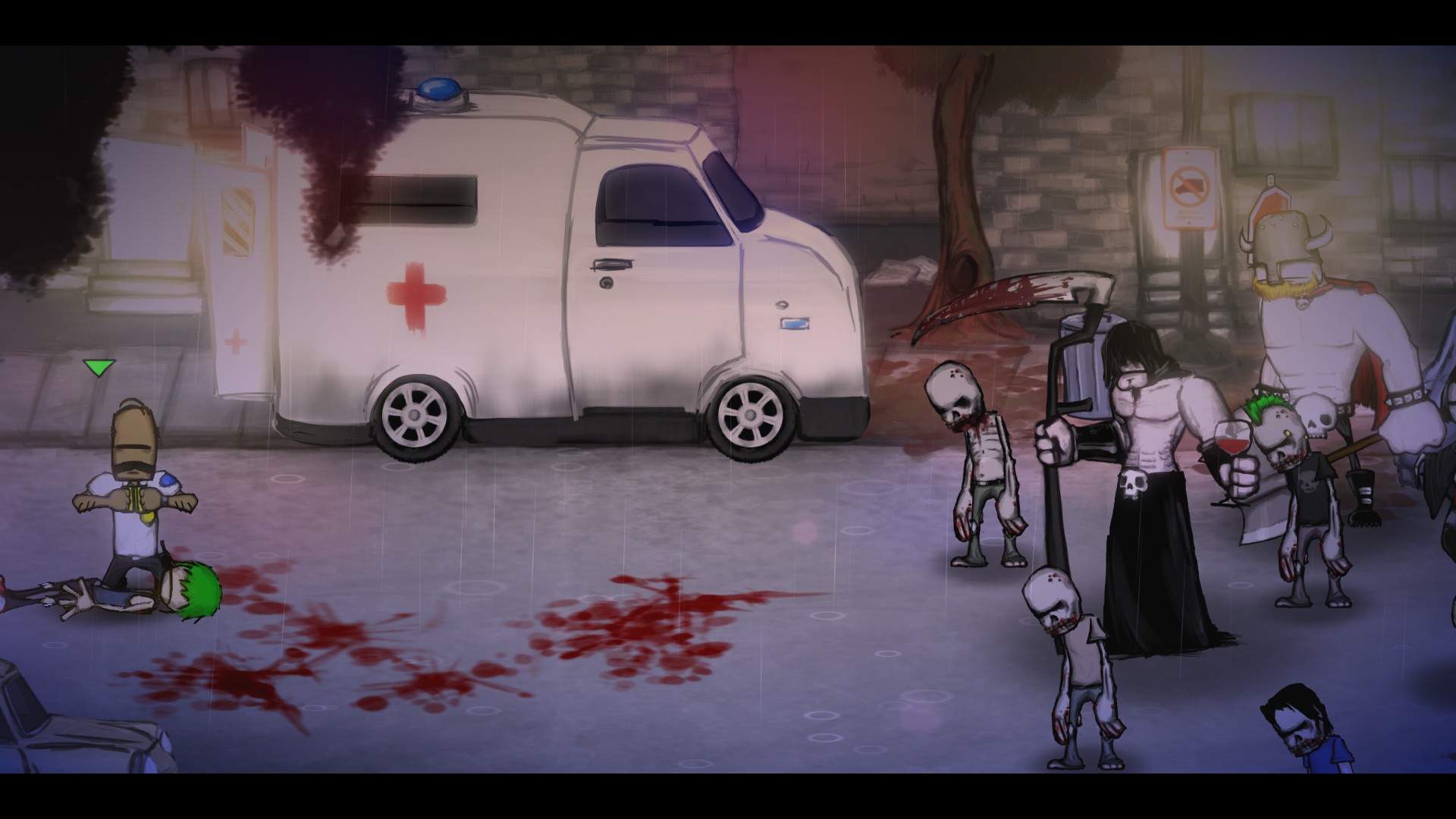 Our story begins with a near-death experience. Whomever you choose to start the game with, you wake up in a big'ol hellscape surrounded by demons and then you are jerked back to your body as a paramedic is defribulating your heart. Next to the ambulance, some zombies and demons(?) quietly watch you for a moment. Just as quickly as you left the beatdown in the afterlife, you find yourself in a new one. After a small tutorial walk past some trashed storefronts, you make it to a bar.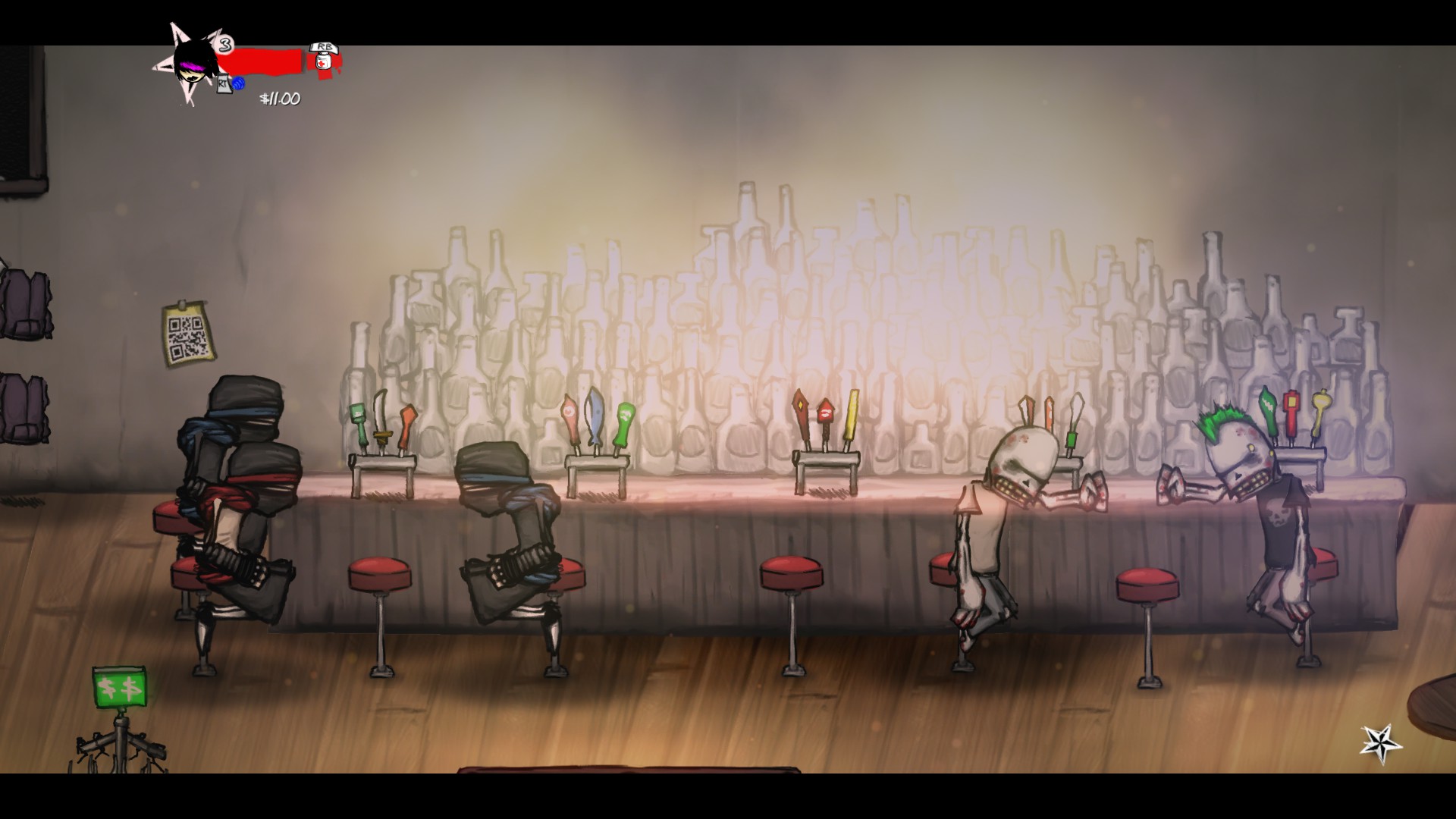 This…feels kind of like a checkpoint? In Salt and Sanctuary (another gem from Ska Studios) the checkpoints look a lot like this. Except…in S&S, you only fight the inhabitants of another checkpoint if you're claiming it for your creed or if you defect from your own creed. Here, the barflies simply start swarming you to begin with and the poor bartender only sticks his head back up once you've cleared them out.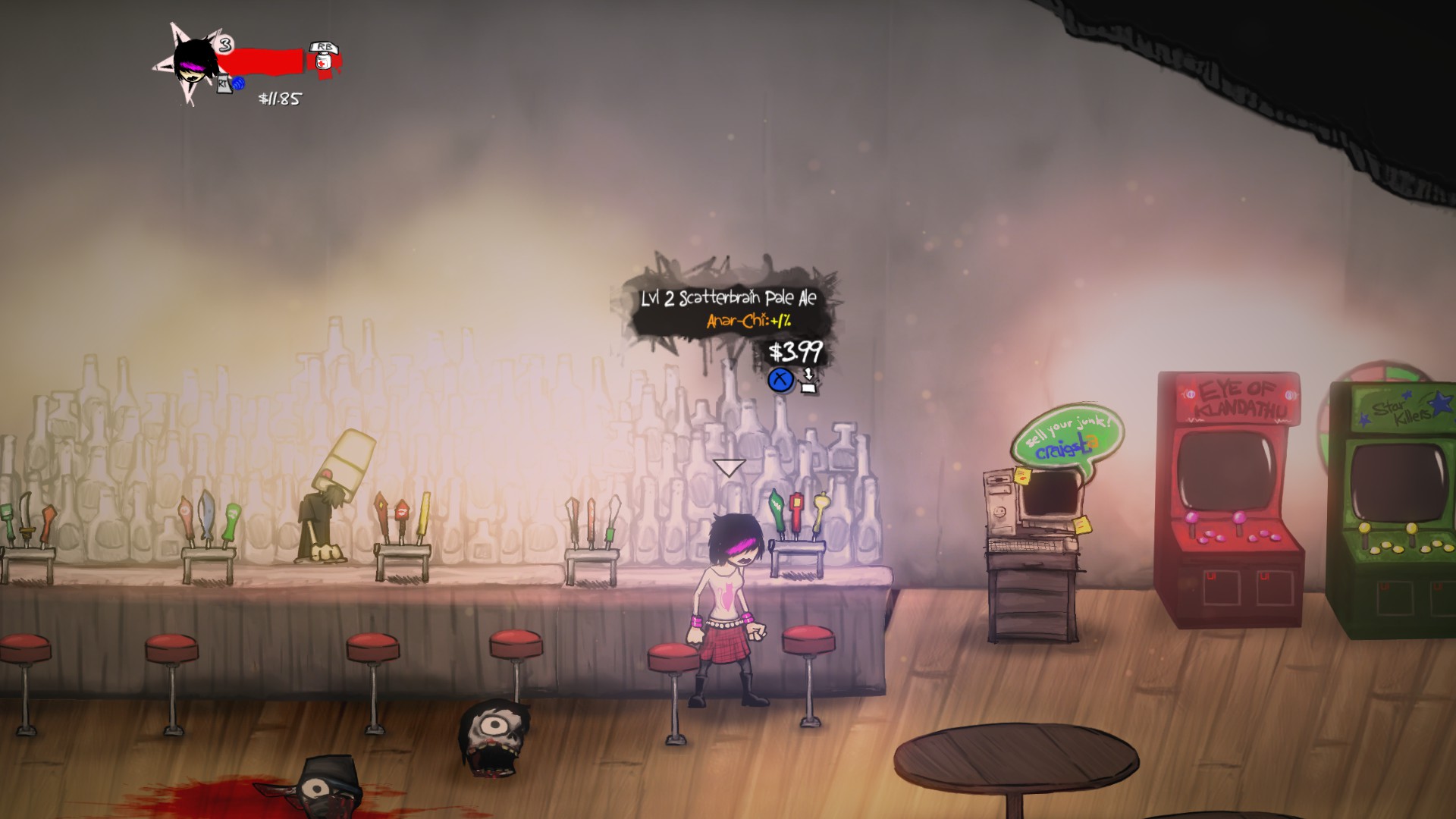 The beer taps that bestow stat buffs even feel a bit like the S&S checkpoints. In S&S, you can only distribute allocation points and alter your gear in checkpoints. The simplicity at the heart of the design may have either consolidated that aspect or…added another level of complication? See, in Charlie Murder, there is a traditional character building and allocation point system. When your character has gained a level, you'll receive a smattering of allocation points you access with your phone.
(Oh about that- you know how many video games try to incoporate smartphones in ways that are supposed to be immersive? Like Silent Hill: Shattered Memories or The Legend of Zelda: Breath Of The Wild or a million others I'm just not thinking about? For some reason this grabs me more than any of those. You can even access the camera on your phone and the screen will just stay in side-scrolling mode while you angle around with your little phone screen. That presentation just adds to the overall charm, along with how you're so often picking literal pocket change off of the street and throwing the arms of zombies back at them as projectiles)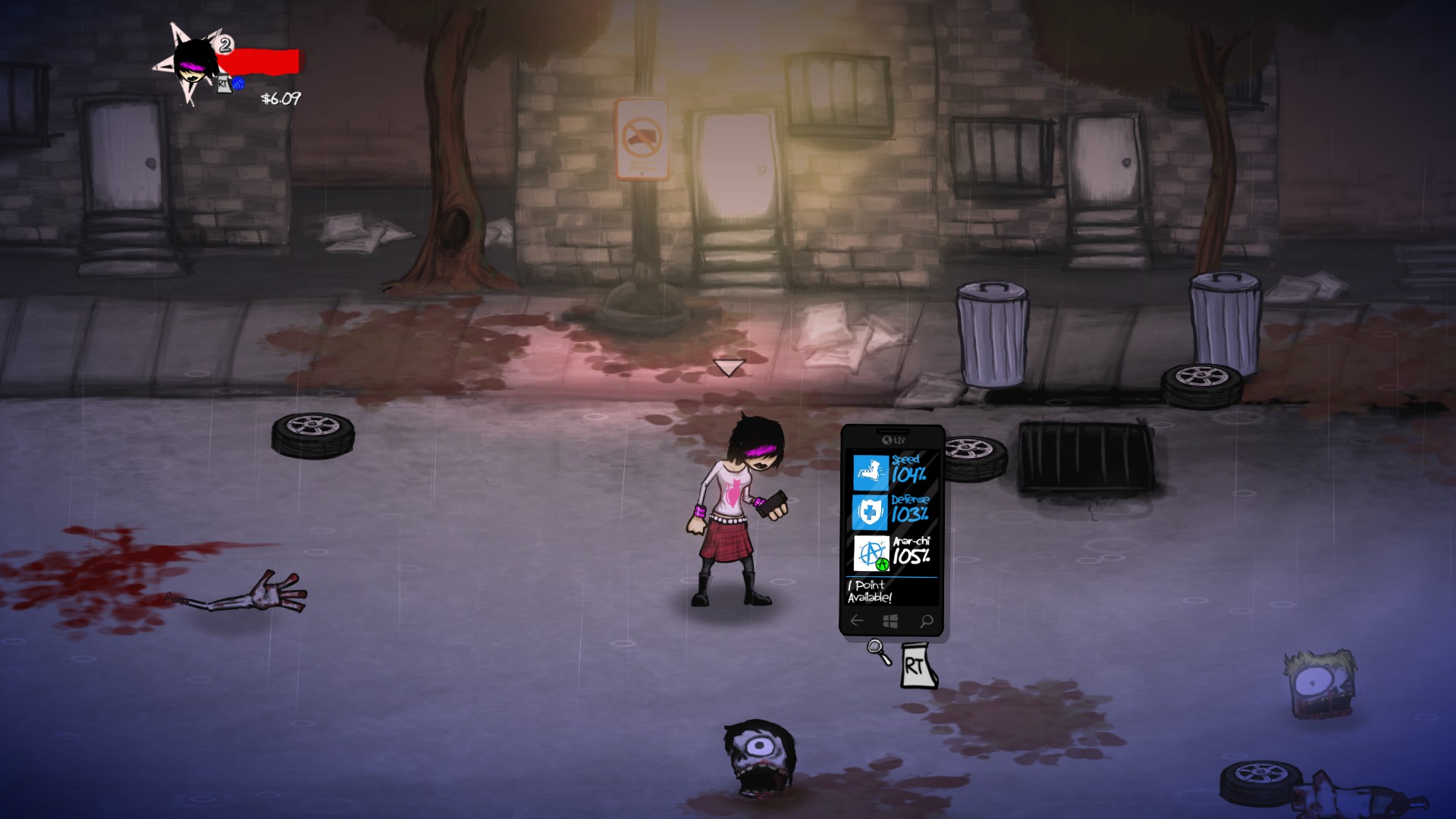 Soooo there's at least a little bit of a normal character building but…your collection of money also seems to be a factor. As you beat the crap out of zombies and take their pocket change, you'll probably notice that you'll have about five to seven dollars with modest grinding. At the bar, money is exchanged for the stat-buff booze and for tattoos that convey special abilities. Seeing as Charlie Murder came first, I wonder if this was an early, experimental germ of the salt gathering in S&S. The tattoo mechanic even bears a resemblance to the magical brands in that game. Then again…I haven't actually used any of the alcohol, I just bought a bunch of it to be used later. Maybe the alcohol only bestows temporary buffs…? We'll follow up on it, eventually.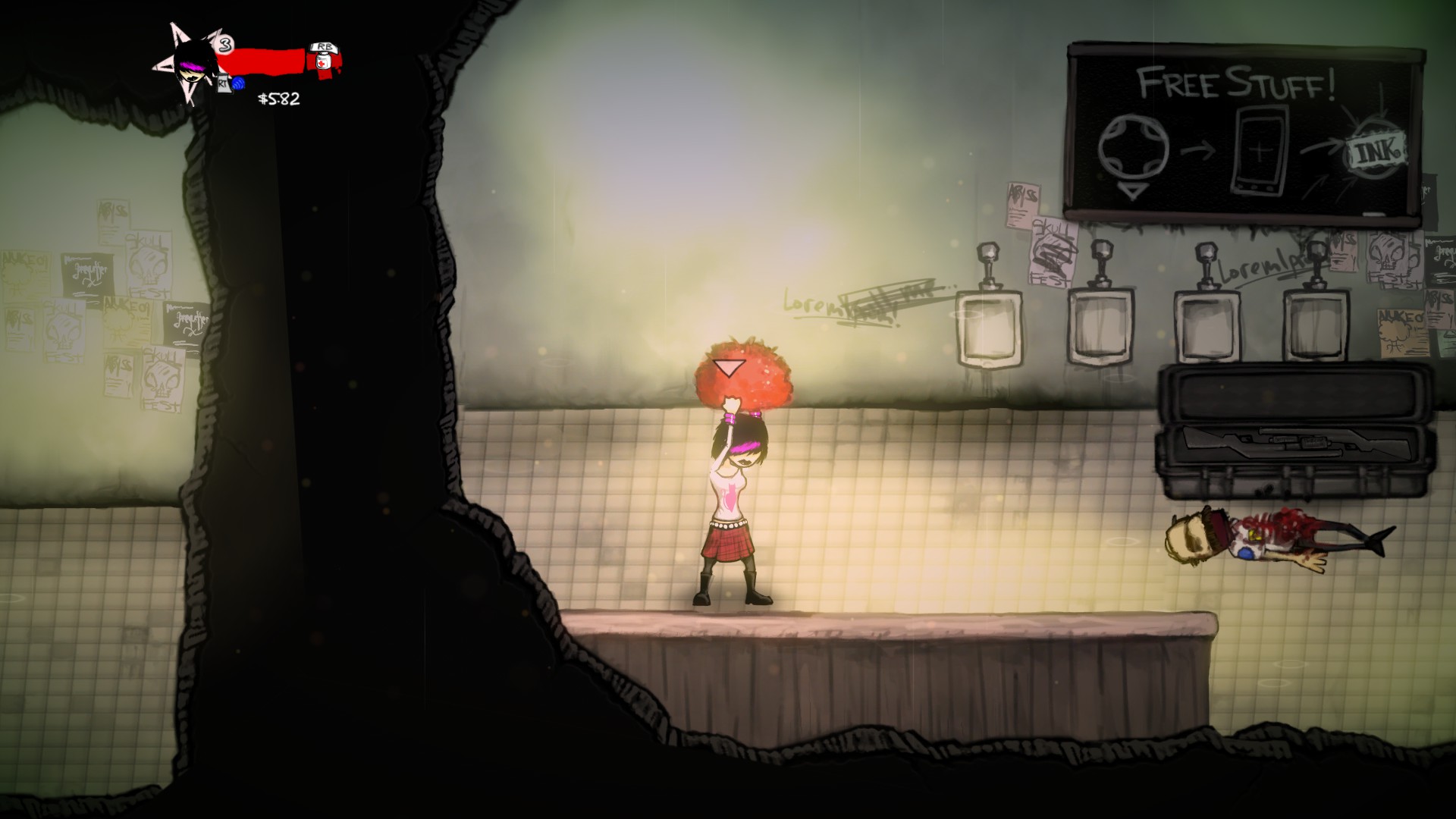 The checkpoints in Charlie Murder even have a little bit of the same…exploration value as S&S, even if less hidden shortcuts to other areas are involved. Poking around will usually reveal some renewable weapon resources or low-level enemies to grind against.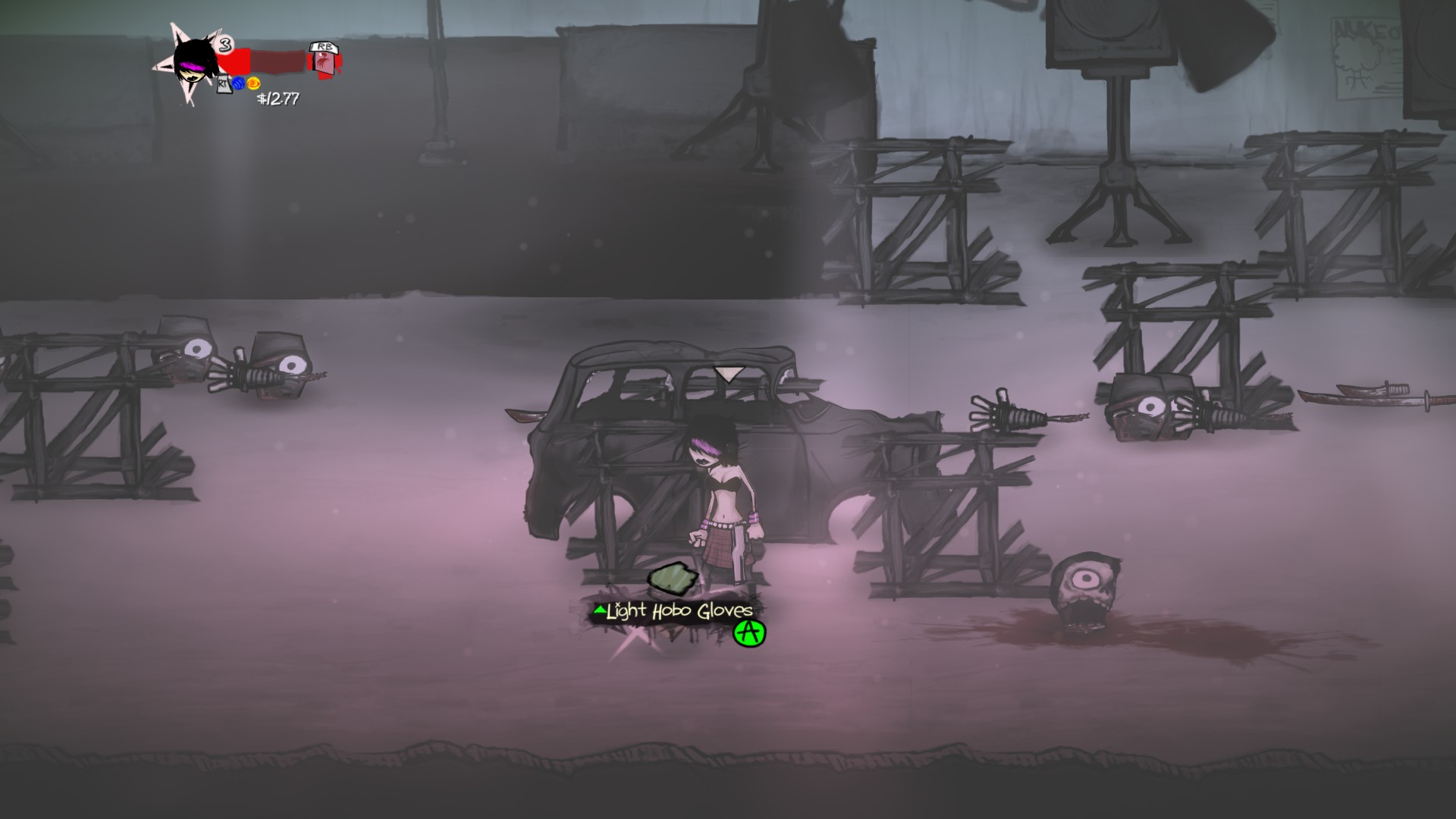 After the first "real" boss fight in the back room of the bar, there is a brief cutscene of the band kicking it in happier times. Maybe even the founding moment of the band. Everyone's chilling on the couch and some friends just happen to have instruments laying around. One random thought leads to another and the magic happens. There is a brief flash-forward to the band's eventual success, combined with a simple rhythm mini-game. Then the cuscene returns to one particular band member for whom the good'ol days weren't so good.